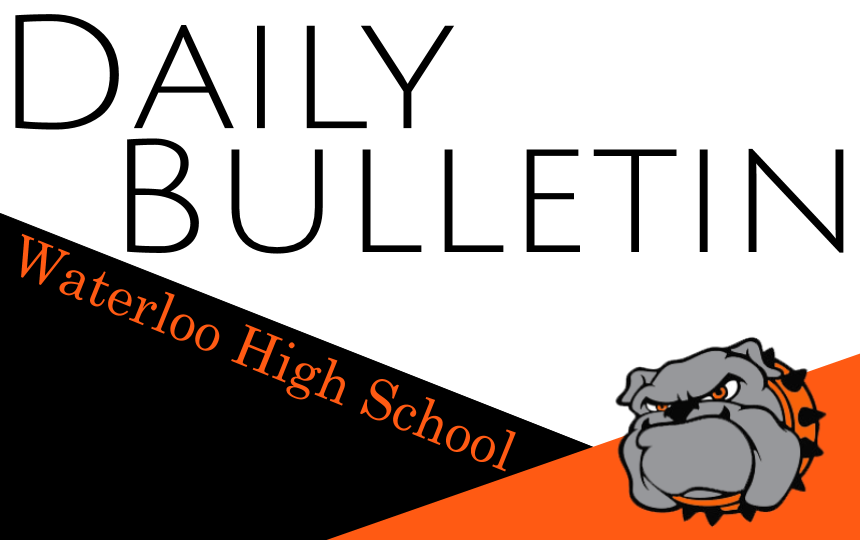 Daily Bulletin 8/27/2019
WHS
Tuesday, August 27, 2019
WATERLOO HIGH SCHOOL

Daily Bulletin
August 27,2019
General Announcements
Students, you are only allowed to leave at the bus bell if you are boarding a bus to go home. All other students should remain in class until the town bell rings. Detentions will be assigned to those who choose to break the rules.
The following students have items to be picked up in the library: Kreighton Bair, Ben Barlow, Kyleigh Hecht, Ty Lenhardt, Shelby Mathes, Madeline Reuter
There will be a yearbook meeting after school Thursday in room E203.
Yearbooks will be handed out today through Thursday after school in the Library until 3:30.
Agendas and Bulldog water bottles are still available for purchase in the main office.
The math help room is open for the school year! Math help is available from 3:00-4:00 Monday - Thursday in B213 and Friday in B204.
Guidance
College Visits
SIUE – Sept 6
McKendree University - Sept. 20
University of Kentucky - Sept. 25
Mizzou – Sept 26
Quincy – Oct 3
University of Nebraska (Lincoln) – Oct 3
Go to the Guidance website to sign up
Athletics
The girls' tennis team had their first match of the season yesterday against Granite City High School. They brought home a huge victory with a score of 8-1. The entire Varsity team of Grace Daab, Mikhayla Haloftis, Megan Hanks, Bethany Holman, Emily Williams and Allison Zilafro all won matches to contribute to a great start to the season. The JV girls had a clean sweep in their matches. They went undefeated in their doubles matchups. Congrats girls!
Athletic Events
4:00 G Tennis @ Jerseyville
5:00 JV/V Soccer @ Belleville East
5:00 Volleyball vs Freeburg
Cafeteria
| | |
| --- | --- |
| Lines 1 2 5 & 6 | Calzone Chicken Sliders Turkey Deli |
| Lines 3 & 4 | Penne Pasta Bake Salad Bar |
| Wednesday's Breakfast | Sausage Egg Cheese Biscuit |