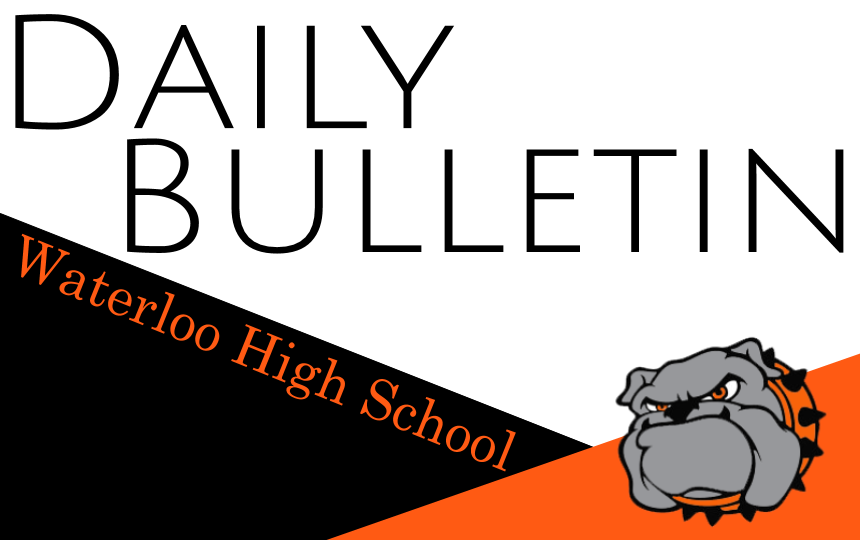 Daily Bulletin 9/11/2019
WHS
Wednesday, September 11, 2019
WATERLOO HIGH SCHOOL

Daily Bulletin
September 11, 2019
General Announcements
Come support the Waterloo School District by participating in the 4th Annual Bulldog Color Run/Walk on September 28th. The race starts at 5:30 pm at the Gardner Soccer Fields. Registration forms can be found online or in any of the school offices. Fees may be paid by check, cash or on WCUSD#5 Webstore at wcusd5.net. Please issue checks to WCUSD5 Memo Line: Color Run. Early Registration, which is due by September 14th, is $25.00 for the first 4 family members, 5 or more is $10 each and guarantees a color packet, medal and t-shirt! Late Registration is $30.00 for the first 4 family members, 5 or more is $15. Bring the whole family and join the fun!!!
The following students have books to be picked up in the library: Kendal Baxmeyer, Rodney Gardner-Meyer, Halle Lynn
Science tutoring will be held in room D209 on Thursday, Sept 12th from 3 - 3:30. Next week will be back to normal tutoring schedule.
Local and state law enforcement are cooperating with the Gateway Grizzlies to sponsor a benefit for the family of Trooper Nick Hopkins. On Sunday at 5:00, the Grizzlies will host a softball game between SWIC and Lewis & Clark College. All proceeds will go to the family of Trooper Hopkins. Tickets can be purchased from the Waterloo PD or the Grizzlies website.
Students: For the month of September, we are challenging every student to arrive on time to 1st hour class. The top two 1st hour classes with the least amount of late arrivals will win a doughnut party at the end of the month!
Renaissance candle orders are due to Mrs. Guehne or Mrs. Crockett ASAP.
Buy your Homecoming T-shirts now through September 18 during lunch periods. Cost is $10 and must be paid when you order. They will be delivered on October 7.
Guidance
College Visits
SIUC Sept. 12th
McKendree Sept. 20th
University of Kentucky Sept. 25th
University of Missouri Sept. 26th
Quincy University Oct. 3rd.
Go to the Guidance website to sign up
Athletics
The soccer team improved their record to 6-2 on the season with a 3-0 victory over Mater Dei last night. Hayden Reese, Brennan Lacroix and Jake Cooling had the goal. Eli Gardner, Will Hicks and Hayden Reese had the assists. JV won 1-0 with Zach Lenz getting the goal. They are now 5-0 on the season.
Athletic Events
4:00 G Tennis vs Belleville West
4:15 JV/V Soccer vs Civic Memorial
5:00 VB @ Collinsville
Cafeteria
| | |
| --- | --- |
| Lines 1 2 5 & 6 | Mini Corn Dogs Pork Patty Melt Ham/Cheese Deli |
| Lines 3 & 4 | Chili w/ SunButter Sandwich |
| Thursday's Breakfast | Cinnamon Roll |