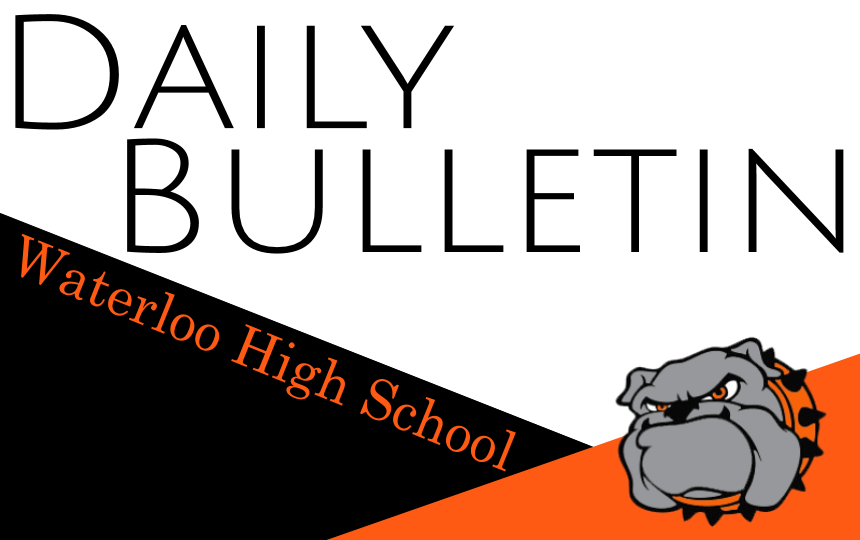 Daily Bulletin 9/13/2019
WHS
Friday, September 13, 2019
WATERLOO HIGH SCHOOL

Daily Bulletin
September 13, 2019
General Announcements
If you're looking for something to do this weekend, be sure to check out Monroe Actors Stage Company's performance of Oklahoma! Show times are tonight and Saturday @ 7:30, and Sunday @ 2:30 at the Capitol Theatre. Some of our own WHS students will be performing.
Come support the Waterloo School District by participating in the 4th Annual Bulldog Color Run/Walk on September 28th. The race starts at 5:30 pm at the Gardner Soccer Fields. Registration forms can be found online or in any of the school offices. Fees may be paid by check, cash or on WCUSD#5 Webstore at wcusd5.net. Please issue checks to WCUSD5 Memo Line: Color Run. Early Registration, which is due by September 14th, is $25.00 for the first 4 family members, 5 or more is $10 each and guarantees a color packet, medal and t-shirt! Late Registration is $30.00 for the first 4 family members, 5 or more is $15. Bring the whole family and join the fun!!!
The following students have books to pick up in the library: Rodney Gardner-Meyer and Halle Lynn
Local and state law enforcement are cooperating with the Gateway Grizzlies to sponsor a benefit for the family of Trooper Nick Hopkins. On Sunday at 5:00, the Grizzlies will host a softball game between SWIC and Lewis & Clark College. All proceeds will go to the family of Trooper Hopkins. Tickets can be purchased from the Waterloo PD or the Grizzlies website.
Students: For the month of September, we are challenging every student to arrive on time to 1st hour class. The top two 1st hour classes with the least amount of late arrivals will win a doughnut party at the end of the month!
Renaissance candle orders are due to Mrs. Guehne or Mrs. Crockett ASAP.
Tuesday is the last day you can order your Homecoming T-shirt…so be sure to place your order asap! Cost is $10 and must be paid when you order. They will be delivered on October 7.
Guidance
Heartland Travel is looking for a student to help around their office. Come to Guidance for more information.
College Visits
McKendree Sept 20th
University of Kentucky Sept 25th
St. Louis College of Pharmacy Sept 25th
University of Missouri Sept 26th
Quincy University Oct 3rd
University of Nebraska Oct 3rd
Illinois College Oct 4th
Go to the Guidance website to sign up
Athletics
The soccer team won their 3rd game in 3 days by beating Mascoutah 3-1 last night. Tyler Toms, Derek Young and Jake Cooling had the goals. Assists went to Aidan Brown, Jake Cooling and Jake Elsing. Their record is now 8-2 on the season.
Congratulations to the Varsity, JV, and Fresh/Soph Volleyball teams on their wins over Columbia Thursday night!
Athletic Events
5:00 FR Soccer vs Belleville East
7:00 V FB @ Carbondale
Cafeteria
| | |
| --- | --- |
| Lines 1 2 5 & 6 | |
| Lines 3 & 4 | |
| Monday's Breakfast | Breakfast on a stick |