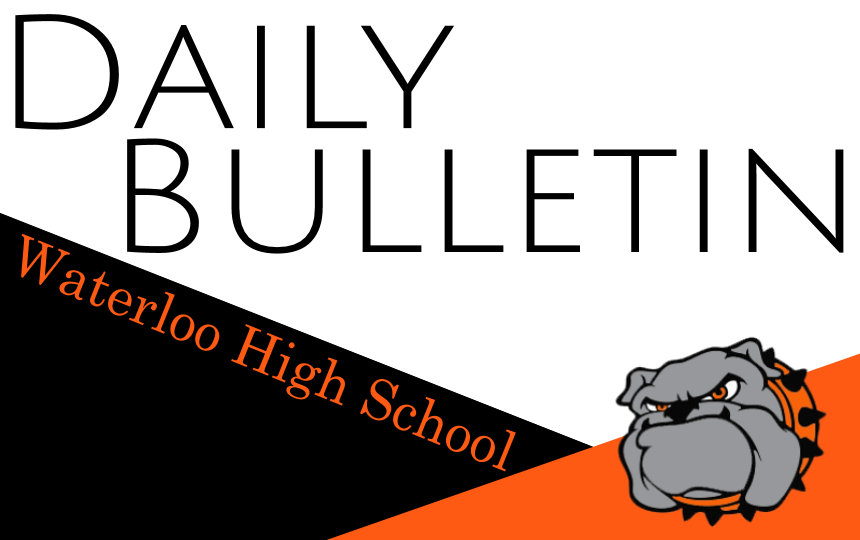 Daily Bulletin 9/17/2019
WHS
Tuesday, September 17, 2019
WATERLOO HIGH SCHOOL

Daily Bulletin
September 17, 2019
General Announcements
The deadline for ordering Homecoming t-shirts has been extended until tomorrow. So be sure to place your order during lunch today or tomorrow. Cost is $10, and the shirts will be delivered Oct. 7.
Potential NHS candidates, please remember that your applications are due this Friday by 3 pm. Late applications are not accepted. Please see Mr. Brueggeman in B210 if you have any questions.
Last call for anyone who has a class officer sheet to turn in. Today is the last day we are accepting them because voting starts tomorrow.
All stage/tech crew and extras need to report to Drama practice Wednesday.
The following students have books to pick-up in the library: Rodney Gardner-Meyer and Sydney Haddick
There is a Student Council meeting tonight in D116 at 5 pm. If you cannot make it, let an officer know.
If you're looking for something to do this weekend, be sure to check out Monroe Actors Stage Company's performance of Oklahoma! Show times are Friday and Saturday @ 7:30, and Sunday @ 2:30 at the Capitol Theatre. Some of our own WHS students will be performing.
Come support the Waterloo School District by participating in the 4th Annual Bulldog Color Run/Walk on September 28th. The race starts at 5:30 pm at the Gardner Soccer Fields. Registration forms can be found online or in any of the school offices. Fees may be paid by check, cash or on WCUSD#5 Webstore at wcusd5.net. Please issue checks to WCUSD5 Memo Line: Color Run. Registration is $30.00 for the first 4 family members, 5 or more is $15. Bring the whole family and join the fun!!!
Guidance
Heartland Travel is looking for a student to help around their office. Come to Guidance for more information.
College Visits
McKendree Sept 20th
University of Kentucky Sept 25th
St. Louis College of Pharmacy Sept 25th
University of Missouri Sept 26th
Quincy University Oct 3rd
University of Nebraska Oct 3rd
Illinois College Oct 4th
Go to the Guidance website to sign up
Athletics
Girls basketball need to meet with Coach Augustine tomorrow during Activity Period for shoe fitting in the Secondary Gym.
Congratulations to the Varsity, JV, and Fresh/Soph Volleyball teams on their wins over Columbia last Thursday night, and to the JV team on their 2nd place finish in our Bulldog Tourney on Saturday. Great job girls!!
Boys Golf last night shot their season low only to fall short against Granite City in a close match 162 to 157. Nate Albrecht and TJ Kassebaum lead the team with a pair of 38's. Also last week Jacob Dinkelman was low medalist at Belk Park with a 39 as the dogs beat Roxana and Metro East Lutheran, and TJ Kassebaum trophied in the Monroe County Tourney with a 4th place 40 at Annbriar. Boys Golf record is 7-6. Tonight is "Route 3 Ryder Cup" vs Columbia at Acorns.
Congratulations to the Freshman Football team for their 47-12 victory over Mater Dei on Saturday. Evan Davis and Bryce Reese each scored three touchdowns, and Aidan Morrow ran for another score.
The soccer team won their 6th game in a row and improved their record to 9-2 on the season with a 5-0 victory over Jerseyville last night. Derek Young, Hayden Reese, Eli Gardner, Jake Cooling and Sam Ward all had goals. JV also won 4-0 to improve their record to 7-1 on the season.
Athletic Events
4:00 G Tennis vs Triad
4:15 JV/V Soccer @ Highland
5:00 VB @ Jerseyville
Cafeteria
| | |
| --- | --- |
| Lines 1 2 5 & 6 | Pizza Hut Pizza Crispitos Turkey Deli |
| Lines 3 & 4 | Pizza Hut Pizza Salad Bar |
| Wednesday's Breakfast | Biscuits & Gravy |