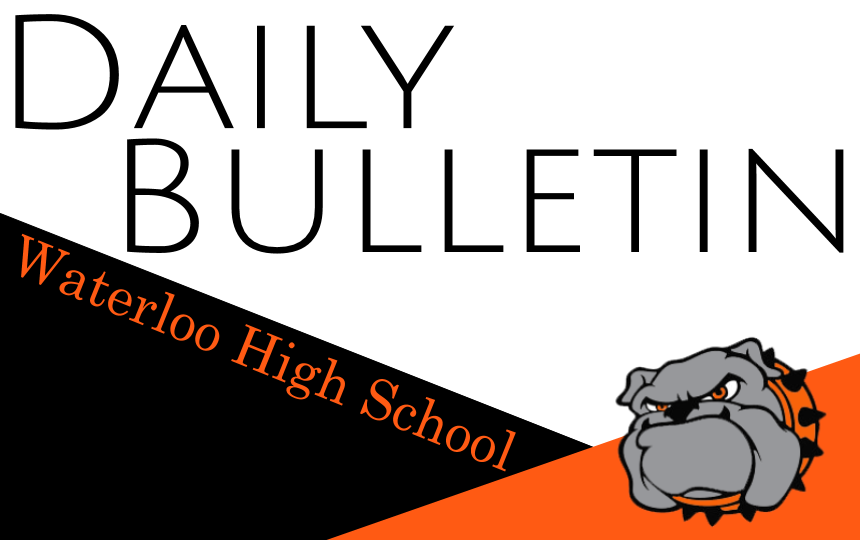 Daily Bulletin 10/2/2019
WHS
Wednesday, October 02, 2019
WATERLOO HIGH SCHOOL

Daily Bulletin
October 2, 2019
General Announcements
For the month of October, WHS Administration is challenging all 2nd hour classes. The class with the fewest ID infractions for the month will win a popcorn party.
Reminder to all students that no food or drinks are allowed in the hallways, classrooms, or lockers. The only exception is water.
The following students have books to be picked up in the library: Cooper Davis, Joseph Green, Jack Metzger, Reid Schilling
All seniors should check their email to fill out a survey for the senior banner as soon as possible.
The new members of the WJ Zahnow NHS Chapter have been selected. The list is posted on Mr. Brueggeman's door. If you are on this list, please plan to meet with the other members of the chapter during activity period today.
Any health student that planned on taking their Emotional Health Test will need to reschedule with Mrs. Crawford in class today.
Juniors and Seniors - Don't forget to sell, sell, sell those TJ's pizzas. Anyone who has sold 10 or more items, bring your form by D118 for a sweet treat. Also, top 10 sellers will be entered in to a drawing for a pizza party during lunch!!
Calling all FRESHMEN! Time to show your school spirit with some Roaring 20's beads! These will be sold at lunch starting today. Cost is 75 cents each or two for $1.
There are Orange Crush shirts & hoodies available for any and all bulldog fans to purchase! You can pick up an order form in the office or E101. All orders and money are due to Mrs. Dehler in room E101 no later than Friday!
Guidance
Volunteers are needed the morning of PumpkinFest to help unload the vendors' vehicles. Help is needed from 6:30 a.m. to 8:30 a.m. on Saturday, October 12th. Sign up is on the Guidance window.
Mr. Barbecue (at Mystic Oaks Golf Course) is looking to hire servers. Come to Guidance for contact information.
Hey Juniors, listen up! We still have 60 spots available for the practice SAT test on October 16th. Why are you missing out on this opportunity? Just A $16 check and your name submitted to Guidance will reserve you a testing spot, guarantee a FREE and INDIVIDUALIZED SAT test prep opportunity, and it will help you make decisions on which colleges and universities you are eligible to apply to. Stop wasting time! The time to sign up is NOW!
WHS is hosting a FAFSA Completion Night tonight at 6:30 pm in the Library to help you with this process. Check your email for the RSVP link.
College Visits
Quincy University Oct. 3rd
University of Nebraska Oct. 3rd
Illinois College Oct. 4th
SIUE Oct. 8th
Bradley University Oct. 8th
Go to the Guidance website to sign up
Athletics
The girls' tennis team had another convincing 7-2 win against Collinsville last night. The next home match is on Tuesday against Gibault. Please come cheer the girls on for senior night.
Congratulations to the Varsity and Fresh/Soph Volleyball teams on their victories over Triad last night.
The soccer team defeated Gibault 1-0 last night to improve their record to 12 wins 3 losses and 2 ties on the year. Brennan Lacroix scored the game winner with the assist coming from Derek Young.
Athletic Events
4:00 Cross Country @ Triad
5:00 FR Soccer @ Jerseyville
Cafeteria
| | |
| --- | --- |
| Lines 1 2 5 & 6 | Pulled Pork Nachos Deluxe Burger Ham Deli |
| Lines 3 & 4 | Chili w/ Sunbutter sandwich Salad Bar |
| Thursday's Breakfast | Scrambled Egg Sausage Toast |