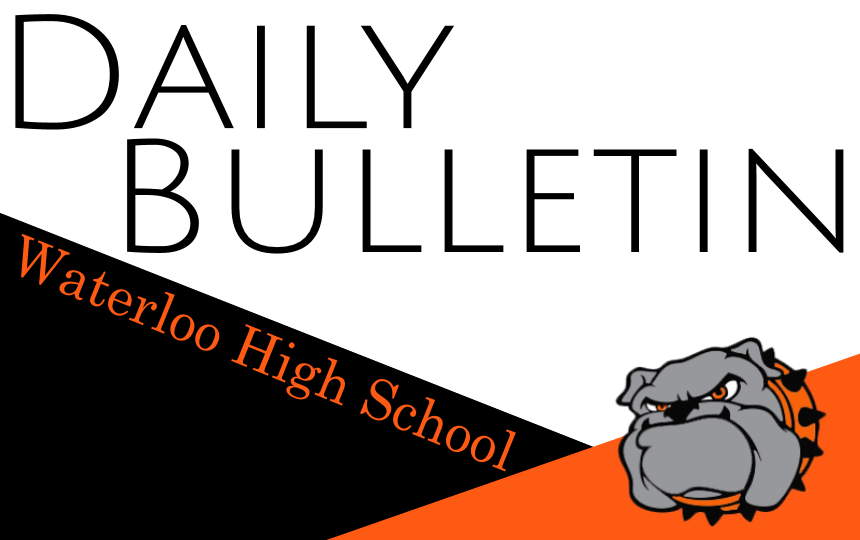 Daily Bulletin 10/4/2019
WHS
Friday, October 04, 2019
WATERLOO HIGH SCHOOL

Daily Bulletin
October 4, 2019
General Announcements
Students – please be aware that the Nurse's office will be closed every day from 10:30 – 11:00.
All Orange Crush order forms and money are due to Mrs. Dehler before the end of the day today. There will not be any orders accepted after 3 pm!
Any Senior wanting to help with decorating our hall tonight from 3:00 to 5, we would love your help.
The following students have books to pick-up in the library: Ben Ezzell and Lillian Shaw
For the month of October, WHS Administration is challenging all 2nd hour classes. The class with the fewest ID infractions for the month will win a popcorn party.
Guidance
Volunteers are needed the morning of PumpkinFest to help unload the vendors' vehicles. Help is needed from 6:30 a.m. to 8:30 a.m. on Saturday, Oct 12th. Sign up is on the Guidance window.
Integrity Healthcare in Columbia is looking for part time help after school. Come to Guidance for more information.
Mr. Barbecue (at Mystic Oaks Golf Course) is looking to hire servers. Come to Guidance for contact information.
College Visits
Illinois College Oct. 4th
Western Illinois University Oct. 8th
SIUE Oct. 8th
Bradley University Oct. 8th
Go to the Guidance website to sign up
Athletics
The freshman Bulldogs trounced the Jersey Panthers last night by a score of 40-20. Evan Davis had three touchdowns on 300 yards rushing, and Aidan Morrow also scored two touchdowns. Aiden Hunter and Bryce Reese each scored a touchdown as well for the Dogs. Their record is now 4-1.
The soccer team defeated Timberland 2-1 last night to advance to the championship of the CYC Tournament against Clayton tonight at the Soccer Park. Derek Young and Zach Lenz had the goals with Hayden Reese getting both assists. The win improves their record to 13 wins 3 losses and 3 ties on the year.
Congratulations to the girls golf team who won their match last night against Valmeyer and Gibault. Calli Smith was the low scorer for the match with a 42. The girls compete at Regionals on Thursday next week at Spencer T Olin golf course in Alton.
Congratulations to the Varsity, JV, and Fresh/Soph Volleyball victories over Jersey last night.
Athletic Events
7:00 - V Football @ Jerseyville
8:00 - V Soccer @ Fenton Soccer Park Field 1 (CYC Tournament)
Cafeteria
| | |
| --- | --- |
| Lines 1 2 5 & 6 | Chicken Strips Fish Sandwich Chef Salad |
| Lines 3 & 4 | Pasta w/ meat sauce Salad Bar |
| Monday's Breakfast | Long John Donuts |