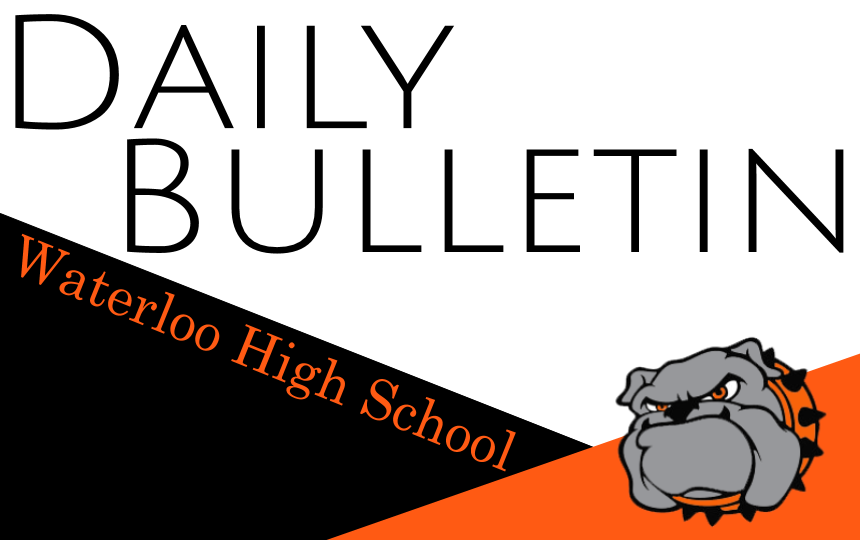 Daily Bulletin 10/15/2019
WHS
Tuesday, October 15, 2019
WATERLOO HIGH SCHOOL
Daily Bulletin
October 15, 2019

General Announcements
Post Prom~TJs pizza fundraiser is due tomorrow to Mrs. Goeddel in D118.

Fall athletes and Marching Band students: If you are returning to Early Bird Personal Fitness, you must achieve 14 workouts by November 15 to remain in the class. An average of 3-4 workouts per week between now and November 15 will help you achieve your goal. Don't procrastinate. Perspirate!

Guidance
Tomorrow is the PSAT test for some juniors. Bells will be turned off 1st - 4th hours. Seniors with lockers in the 1st floor E Hallway will not be permitted to go to their lockers until after 4th hour. Please bring all of your supplies with you.

College Visits
SLU Oct. 15th
Illinois Wesleyan Oct. 16th
Lindenwood Oct. 16th
MacMurray Oct. 17th
U of I Oct. 17th
Missouri State University Oct. 18th

Athletics
Congratulations to the girls golf team on a great season. The girls team played at the Sectional golf tournament yesterday in Mt Carmel after finishing in third place as a team in Regionals last week. The girls shot a season tournament low of 397 at a tough course with Calli Smith leading the way with a 92. Kami Cooper had a 97, Lidia Kaltenbronn shot a 98. Kyleigh Hecht and Lexi Stumpf both had a 110, and Payton Link rounded out the scoring with a 113. All of the girls had a fantastic year!

Athletic Events
4:00 G Tennis vs Mt Vernon
5:00 JV/V Soccer @ Belleville West
5:00 Volleyball @ Mascoutah


Cafeteria
Lines 1 2 5 & 6 Pizza Hut Pizza Crispitos Turkey Deli
Lines 3 & 4 Pizza Hut Pizza Salad Bar
Wednesday's Breakfast Biscuits and Gravy