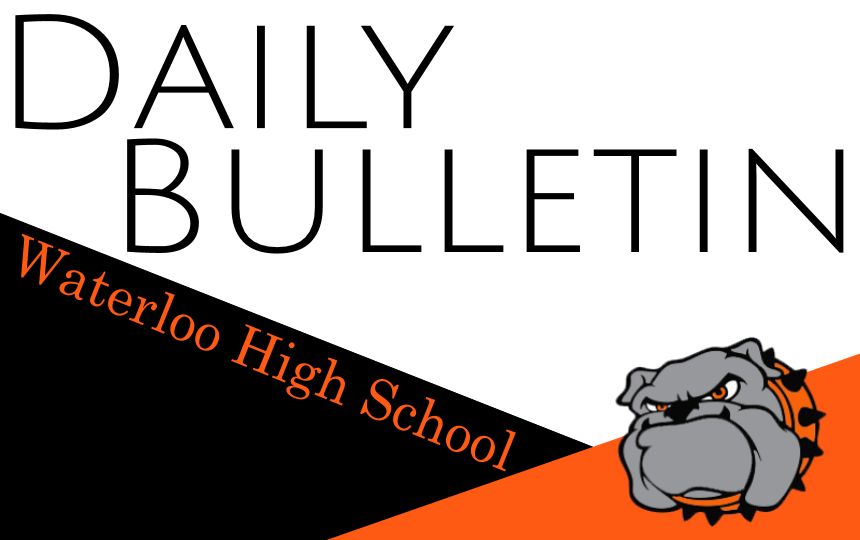 Daily Bulletin 10/23/2019
WHS
Wednesday, October 23, 2019
WATERLOO HIGH SCHOOL

Daily Bulletin
October 23, 2019
General Announcements
Hey WHS! Let's help families in need in our area and Tackle Hunger! Hope Church will be at the Football game on Friday night collecting donations for their food pantry. Any WHS student who donates 3 or more canned goods or non-perishable food items will receive a coupon for a free hot dog courtesy of the Booster Club at the concession stand.
Thank you to all who sold TJs Pizza for Post Prom. The pickup date is Thursday, November 7th after school. Congratulations to Alania Aubuchon for being the top seller and winning a free prom and post prom ticket. Congratulations to Alivia Reese, Skyler Culpepper, Cole Glowacki, Syndey Haddick and Megan Hanks for being the top five sellers and receiving a free post prom ticket. Please stop by Mrs. Goeddel's Room (D118) to request your pizza preference for the pizza party on Wednesday, October 30th.
The marching band finishes up their competitive season this Saturday as they compete at Belleville East. The band performs at 6:45pm -- be sure to come out and support your Marching Bulldogs!
There are quite a few items on the lost and found table in the cafeteria….jackets, sweatshirts, lunch bags, etc. Please check the table to see if anything belongs to you.
Friday @ 5:45pm will be the last Orange Crush tailgate of the season. We will set up in front of the bus entrance doors right outside the building. Everyone is welcome to join the fiesta! We will have lawn games and FREE tacos-in-a-bag! Support your Bulldogs and cheer for a victory over Mater Dei! See you all there.
Guidance
The Marines will be here during activity period on Oct. 30th to speak with any junior or senior that is interested in the ROTC scholarship. To sign up visit the Guidance website or come to the Guidance office.
Oak Hill needs our help on Wednesday, October 30th from 4 - 6:30. We will be responsible for working the drink station and for busing tables. Sign up is on the Guidance window. (You get FREE soup and pie for working!)
College Visits
Bellarmine University Oct. 23rd
Truman State University Oct. 28th
UMSL Oct. 28th
Savannah College of Art and Design Oct. 29th
Athletics
Boys bowling tryouts will be Monday and Tuesday. The bus will leave from the high school at 3:00 and return around 6:00 both days. If you have any questions, contact Coach Beck.
Congratulations to our JV Volleyball Team on their victory over Highland last night!
Cafeteria
| | |
| --- | --- |
| Lines 1 2 5 & 6 | Sloppy Joe Sandwich Cheeseburger Ham Deli |
| Lines 3 & 4 | Chicken Pot pie |
| Monday's Breakfast | Breakfast Pizza |