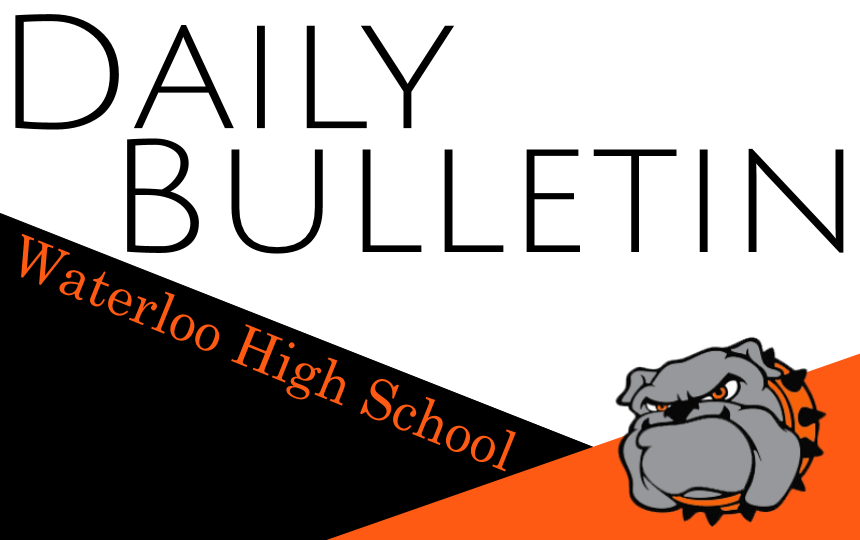 Daily Bulletin 11/5/2019
WHS
Tuesday, November 05, 2019
WATERLOO HIGH SCHOOL

Daily Bulletin
November 5, 2019
General Announcements
Congratulations to our classrooms that won the popcorn party for having the fewest ID infractions! Mr. Lucash, Mr. Biffar, Mrs. Tiedmann and Ms. Herring. For the month of November, the classroom challenge will be for attendance…so the 3rd hour classroom with the best attendance for the month of November will win a hot chocolate/coffee party.
A reminder to all students that there is no food or beverages allowed in the hallways or classrooms.only water.
Thank you to all of those who sold TJ's pizza for post-prom. Pizza pick up will be right after school in the secondary gym on Thursday.
If you are going to be absent from school, excluding Dr appointments, you must have a planned absence form filled out and turned in within 48 hours of the intended absence. And in order to be approved for hunting, you must show a copy of your current deer tags prior to approval.
Congratulations to the mathletes who attended the final Southwest Math Conference competition for the 2019 season last night at SWIC. Winning for WHS in our division were Kaitlyn Warden, 8th place freshmen, Megan Jung, 3rd place freshmen, Eddie Heinen, 4th place juniors, Gabe Lewis, 2nd place juniors, and Adam Ferry, 4th place among seniors.
The WHS Math Team came in fourth this year, just missing the third place trophy by a handful of points.
All team members who participated in one of the SWIC competitions this year are asked to meet in room B-204 at 7:30 Wednesday for a team photo. Bring your ribbons and medals!
The following students have books to be picked up in the library:
Kyleigh Hecht Bryce Hull Rylee Stallone Abby VanVeghel Levi Zeiger
Congratulations to the WHS Speech team for kicking off the season with a second place finish this past weekend at the Olympia Invitational. Top performers include: Eden Stratton, Madison Weatherfield, and Jordyn Kretchmer-who was named Tournament champion in Informative Speaking. Emma Wittenauer earned JV tournament Champion in HI and Anna Kuhnert earned JV Tournament Champion in Informative Speaking
Guidance
The Entrepreneurial Monroe County startUP class will present to all sophomores and juniors tomorrow during activity period. Please check your email for more information about this opportunity for 2020-21 school year.
College Visits
Lindenwood University Nov 8
Webster University Nov 13
Kansas State University Nov 22
Athletics
Please announce: Congratulations to our Bulldog Volleyball Team on their victory over Charleston last night which advances the team to the Sectional Championship on Wednesday. We are so proud of the heart and the battle this team brings to the court. Awesome job girls! BULLDOG PRIDE!!!
Thank you to the tremendous fan support last night! You guys were amazing!! We hope to see you all tomorrow night at 6:00 as we face Centralia!
Students, the athletic department will again be paying for the admission for the first 25 students who arrive for the Volleyball game on Wednesday night. Doors open at 5pm. Come out and support your Lady Bulldogs as they play for a Sectional Championship against Centralia at 6pm.
Students are reminded that there is no re-entry at athletic events. If you leave the building you may not return and if you are caught letting people in a locked door, you will face consequences. We do have cameras in the halls.
There will be open mat practices for wrestling today and Thursday. Newcomers are free to come out and give the sport a shot!
Cafeteria
| | |
| --- | --- |
| Lines 1 2 5 & 6 | Pizza Hut Pizza Crispitos Turkey Deli |
| Lines 3 & 4 | Pizza Hut Pizza Salad Bar |
| Wednesday's Breakfast | Sausage Egg Cheese Biscuit |