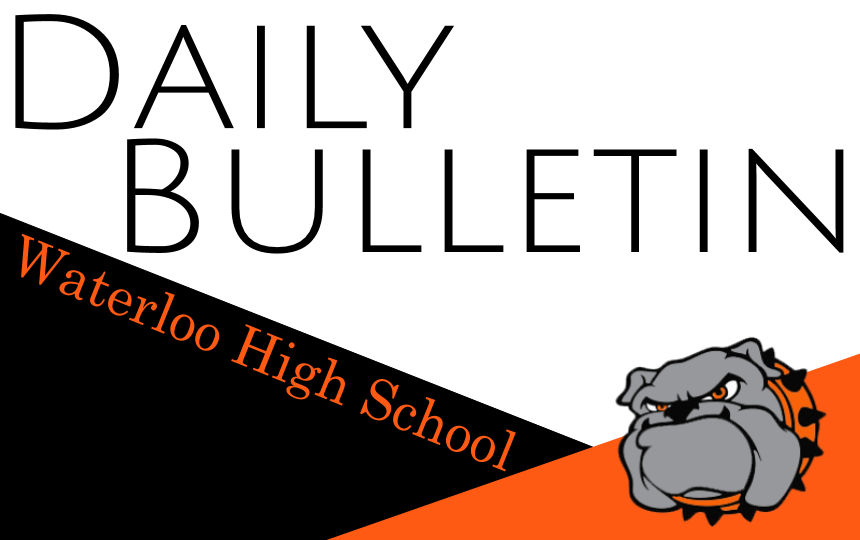 Daily Bulletin 11/7/2019
WHS
Thursday, November 07, 2019
WATERLOO HIGH SCHOOL

Daily Bulletin
November 7, 2019
General Announcements
The following students have books to be picked up in the library: Kyleigh Hecht, Bryce Hull, Lillian Shaw, Rylee Stallone, Abby VanVeghel
If you are going to be absent from school, excluding Dr appointments, you must have a planned absence form filled out and turned in within 48 hours of the intended absence. And in order to be approved for hunting, you must show a copy of your current deer tags prior to approval.
Guidance
College Visits
Lindenwood University Nov 8
Webster University Nov 13
Kansas State University Nov 22
Athletics
The volleyball program wants to thank Mr. North, the Administration, faculty, and the student body for the tremendous support during our post season play...you all were truly amazing!!

Cafeteria
| | |
| --- | --- |
| Lines 1 2 5 & 6 | Stuffed Crust Pizza Cheeseburger Hoagie |
| Lines 3 & 4 | Soft Taco Bar Salad Bar |
| Friday's Breakfast | French Toast |