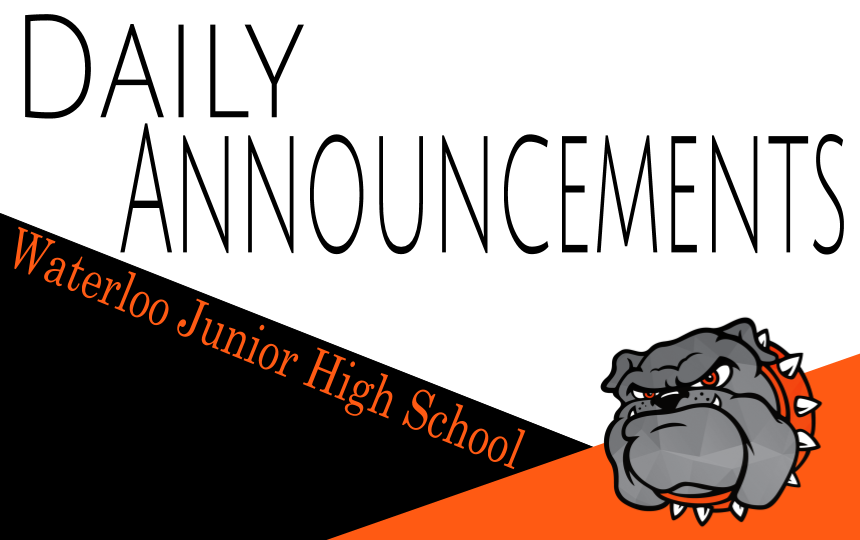 11-27-2019 Announcements
WJHS
Wednesday, November 27, 2019
Menu: No Lunch - Half Day
************************************************************************************
Enjoy your Thanksgiving Break!!!
Students, as a reminder, phones are NOT allowed to be carried with you throughout the day. They must be in your locker and only used between classes.
Student Council shirt orders are due today.
There will be an informational meeting on Tuesday, December 3 during Study Hall in the North gym for any 6th, 7th or 8th grade girls interested in playing volleyball.
The Waterloo Optimist Club will be hosting a Jr. Bowling League for any child ages 9-18 years. The league will start on Saturday, January 4th and end on March 7th. Bowling will take place at West Park Bowl in Columbia. There will be a $10 registration fee. Bowling will cost $11 per child per week (includes the use of a bowling ball and shoes). There will be approximately 9 bowling dates. Bowling will take place on Saturdays at noon. Each child will receive a t-shirt. Registration will be held at Shelby's Automotive Repair on Tuesday, December 3 from 5-7 & Saturday, December 7th from 10-12.