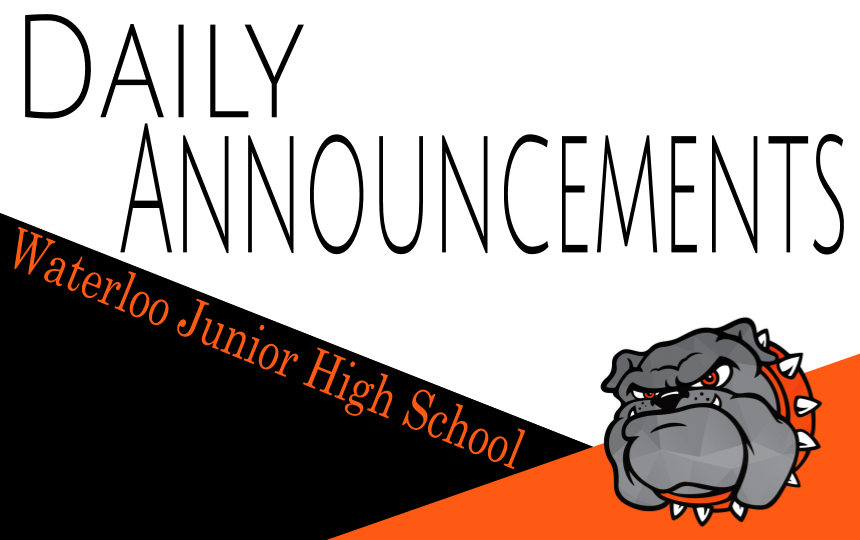 1-8-2020 Announcements
WJHS
Wednesday, January 08, 2020
Menu: Chili w/ ½ Peanut Butter Sandwich or Pepperoni Pizza Celery w/
Peanut Butter & Pears
************************************************************************************
Well done to the chess team for earning their first victory last night. Individual winners were Brady Karsten, Jackson Dowler, Elijah Hansel, Luke Warden, and Garrett Stratton."
Stories and Slices will be meeting next Tuesday during study hall to skype with Celia Perez. If you have read The First Rule of Punk and would like to attend, please sign up in the library so we have a count for food. If you have questions, please see Mr. Mayer.
Yearbook staff will meet today from 3-4 in Mrs. Walthes room.
Any 6th grade girl trying out for volleyball today should leave Study Hall at 2:35 and meet in the main gym before loading the buses.Tryouts will be at Gardner from 3:15-5:15.
7th & 8th grade volleyball tryouts will be on Thursday and Friday 3:15-5:15.
Science Club will meet today after school.
The Student Council Holiday party is rescheduled to Monday, January 13. If you want to participate in the gift exchange, please bring a gift that is valued at $5.