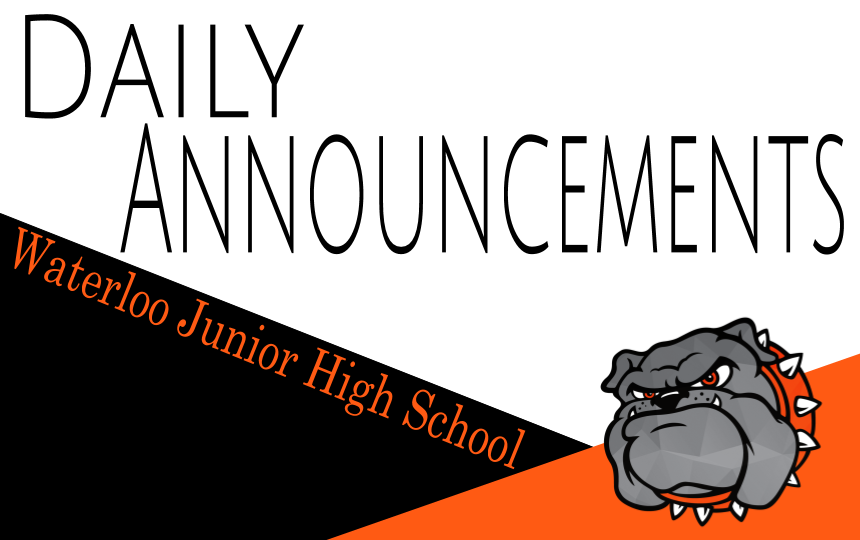 1-13-2020 Announcements
WJHS
Monday, January 13, 2020
Menu: Deluxe Hamburger or Popcorn Chicken Baked Beans & Pineapple
************************************************************************************
Congratulations to the cheerleading squad for placing 2nd at the ICCA Championships in Springfield this weekend out of 16 teams. Great job ladies!!
Stories and Slices will be meeting tomorrow during study hall to skype with Celia Perez. If you have read The First Rule of Punk and would like to attend, please sign up in the library so we have a count for food. If you have questions, please see Mr. Mayer.
Attention WJHS! You and five or six friends have the opportunity to earn a sleigh load of prizes, cash, and other goodies through a competition of co-ed winter dodgeball between schools. Make sure to tell your parents they have the opportunity to earn guest prizes and giveaways, all in the same place! Grab your coat and your snow boots and sled on down to Columbia High School on January 18th at 2:00 PM for a friendly snowball fight. Remember, you and your team are guaranteed 2 games and will be competing for a cash prize and a sleigh load of bragging rights, SO DON'T MISS IT! Let's see Waterloo beat SPPS and Columbia. Pickup a packet in the office.
The Student Council Holiday party is today after school.
Does seeing trash bother you? Would you like to see greenspaces clean and litter-free? If you are interested in small scale clean-up efforts, please join us Tuesday January 14th for a #trashtag meeting at 3 in Ms. Vise's room. Remember, small-scale efforts can have large scale impacts.