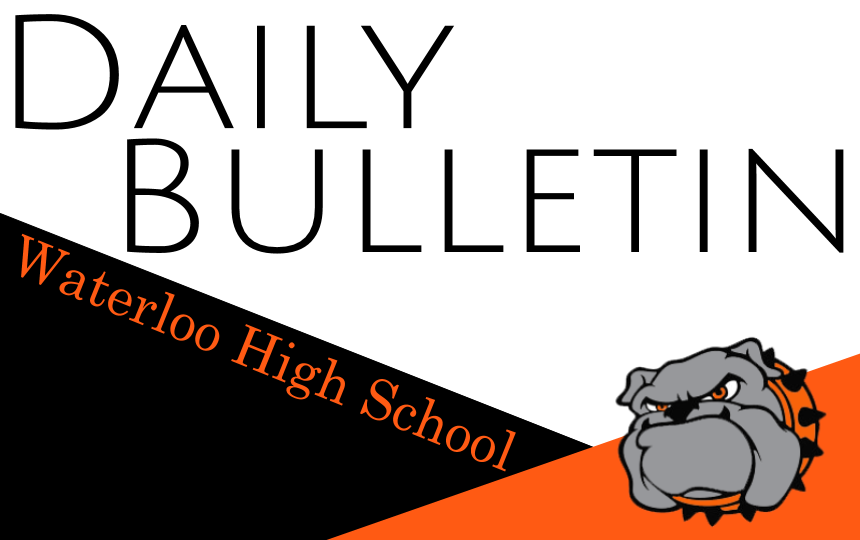 Daily Bulletin 2/4/2020
WHS
Tuesday, February 04, 2020
WATERLOO HIGH SCHOOL

Daily Bulletin
February 4, 2020
General Announcements
No Spanish tutoring today.
Congratulations to this year's Top Dog Award nominees! Please check the lists posted around the building and congratulate the nominees. Nominees will meet in Mrs. Crockett's room during Activity Period on February 12.
Students and staff do you want to help Elsa and her battle against cancer? Do you want to see the boys basketball coaches with their heads shaved? If you answered yes to either of those questions now is your opportunity to help! The basketball team has set a goal of raising $1000 and you are capable of helping. You can donate at any home boys basketball game, at lunch, or in the main office. No amount is too large or too small.
Attention Saturday Scholars: be sure to sign up on the door of room D209 for the second session of whether or not you can attend. Remember, there is a waiting list. Bus will leave at 8:15 a.m.
The NHS blood drive is scheduled for Thursday, February 6th. Anyone 16 or older is eligible to donate. See Mr. Brueggeman in B210 if you'd like to sign up.
Anyone who has not signed up for Spain 2021 and is interested there will be an informational meeting Wednesday night in Señora Koeneman ́s classroom, E204 at 5:00pm. If you are unable to attend see Señora Koeneman for information. If you are already registered no need to attend.
Guidance
Spring College Visits
SIUC Feb. 5th
SEMO Feb. 11th
Ranken Tech Feb. 19th
Murray State Feb. 20th
Illinois Wesleyan Feb. 26th
Sign up on the Guidance website if you would like to meet with a representative
Athletics
We have two separate fan bus opportunities going on right now.
The first will be for the State Cheer meet this Friday. The bus will leave from WHS for Bloomington at 5:45am. We would need at least 25 students to sign up for this bus and the cost would be $25 each and would include your transportation and ticket to the event only.
The second fan bus will be to the Boys Basketball game at Highland on 2/14 where both teams will be playing in honor of Law Enforcement. Proceeds from that night will be given to the family of Trooper Nick Hopkins. We need 25 students for this trip as well and the cost would be $10 per student.
The costs for both of these buses could go down if more students than 25 signed up.
Congratulations to girls bowling on their high scores in their match last night against Mascoutah. Faith Montgomery 210 and Carleigh McFarlane 221.
Athletic Events
6:00pm JV/V Basketball @ Granite City
Cafeteria
| | |
| --- | --- |
| Lines 1 2 5 & 6 | Pizza Hut Pizza Crispitos Turkey Deli |
| Lines 3 & 4 | Pizza Hut Pizza Salad Bar or Fries |
| Wednesday's Breakfast | Breakfast Toast |