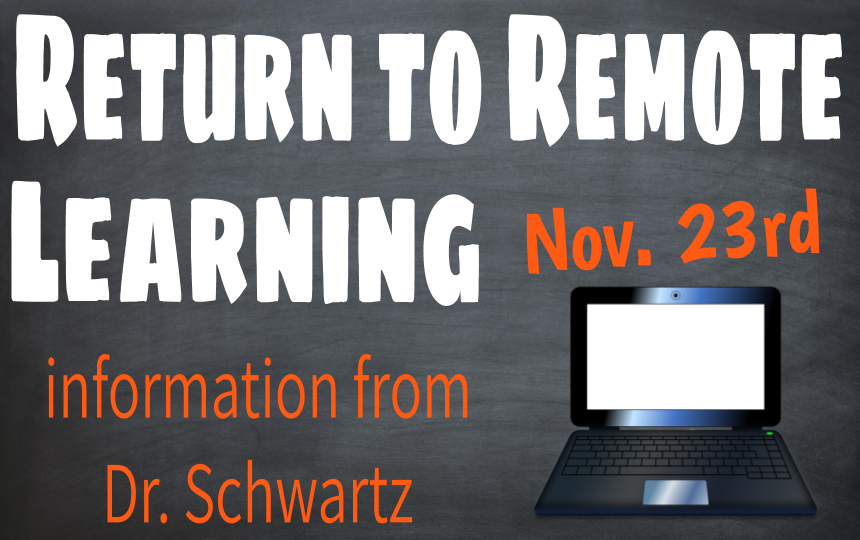 Return to Remote Learning
Amber Cruser
Wednesday, November 18, 2020
Good Morning Parents:

As you know, we will be transitioning back to fully remote learning on Monday, November 23. The earliest possible return to in-person learning will be Monday, December 7. This may involve small groups of struggling students or a return to the A/B schedule depending on what the health department recommends. If we are only allowed to bring small groups of students back, we will be reaching out to those that we feel need it the most. Some points of information that we would like to communicate:
The last day for extended day will be tomorrow (November 19).
Picture days will be rescheduled to Feb. 2 and 3.
Please have your child continue to check-in with attendance by noon.
Instructional videos will continue to be posted daily.
We will resume Zooms in the afternoon (Mon - Thurs) beginning Monday, November 23. Zooms will be different than they have been. They will be a recap of the day or a short lesson. We encourage all students to attend the daily Zoom meeting. It is the only face to face interaction that students will have with their teachers during remote learning. The Zoom schedule will be accessible on Google Classroom and will be as follows:
| | | | |
| --- | --- | --- | --- |
| 12:00-12:30 | 6th Social Studies | 7th Regular Math | 8th Language |
| 12:30-1:00 | 6th Science | 7th Language | 8th Social Studies |
| 1:00-1:30 | 6th Regular Math | 7th Science | 8th Literature |
| 1:30-2:00 | 6th Literature | 7th Social Studies | 8th Regular Math |
| 2:00-2:30 | 6th Language | 7th Literature | 8th Science |
| 2:30-3:00 | 6th Accelerated Math | 7th Accelerated Math | 8th Algebra |
Please continue to work with your child to ensure that he/she is understanding material and completing work. Also, do not hesitate to contact teachers by email or call the office at 939-3457. Thank you for all you do to support your child during this unprecedented time. We will get through this!
#WJHSAsOne