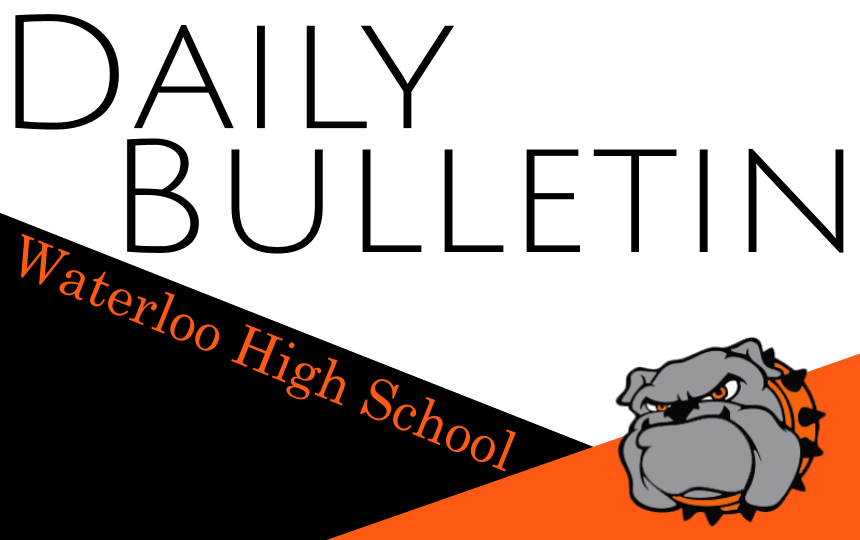 Daily Bulletin 4/6/2021
WHS
Tuesday, April 06, 2021
WATERLOO HIGH SCHOOL

Daily Bulletin
April 6, 2021
General Announcements
Sophomore class, if you are interested in helping your class raise funds, please see a science teacher to receive your fundraising permission slip. You MUST have a signed permission slip in order to receive your first box of the World's Finest Chocolate.
Thank you for participating in the first day of Homecoming spirit week! Tomorrow's dress up day is Outerbanks vs. Tiger King. Student Council has Homecoming shirts for sale this week before and after school for $10.
The WHS Drama Club will be hosting appropriately socially distanced auditions for the WHS Spring Production on Tuesday April 6th and Wednesday April 7th at 3:00pm. For more information, please contact Mr. Rickert
They say that April showers bring May flowers, but April is also the month for another round of nominations for the Renaissance Student of Character. This month's attribute is CONSIDERATION.
Are you considerate? Do you consistently demonstrate polite, well-mannered behavior towards others? Do you show that "I care" and "you matter" attitude? If so...then this is your month! Your teachers will be on the lookout for this important character trait, so open a door for someone, greet everyone with a kind smile, and open the window so that fly can fly away to live another day.
Guidance
Illinois Association for College Admission Counseling (IACAC) is hosting virtual college fairs on April 13th & 14th from 5:00 - 7:45 pm. Go to www.strivescan.com/illinois/ap... to register for any of the several virtual sessions being offered. You can sign up for up to 3 different 45-minute sessions of your choosing! Explore the schedule and register for each session you want to attend. You will hear from up to six colleges in each session. We recommend registering for at least one session in each time slot. Once you register, you'll receive a confirmation email with your personalized link to join the Zoom Webinar. Since these are webinars, your camera and microphone will be off, but you'll still be able to ask questions live.
Weber Chevrolet Columbia is looking for a part time receptionist. Come to guidance for contact information.
Spring Virtual College Visits: University of Massachusetts April 15th @ 1:00pm
If you would like to sign up for a virtual visit you can do so by clicking college information on the guidance website.
Athletics
Today, April 6
4:00pm Freshman Soccer @ Edwardsville
4:15pm Volleyball vs. Triad - CANCELLED
4:15pm Varsity Soccer @ Jerseyville
Wednesday, April 7
4:15pm Freshman Soccer vs. Jerseyville - CANCELLED
Thursday, April 8
4:15pm JV/V Soccer vs. Triad
5:00pm Volleyball @ Jerseyville - CANCELLED
6:00pm Freshman Football @ Triad
Friday, April 9
7:00pm V Football vs. TBD (MVC Tournament)
Saturday, April 10
10:00am JV Football @ Triad
11:00am JV/V Soccer @ Mascoutah
12:00pm JV/V Soccer @ Alton Marquette - CANCELLED
Students, we know you love to support our teams, but at this time due to COVID, we will not be able to have any fans in attendance at away games for volleyball and limited fans at away football games. Home volleyball and football games will also have limited availability, as we are allowing each athlete to bring in only 2 guests. Thanks for your continued support of Bulldog Athletics.