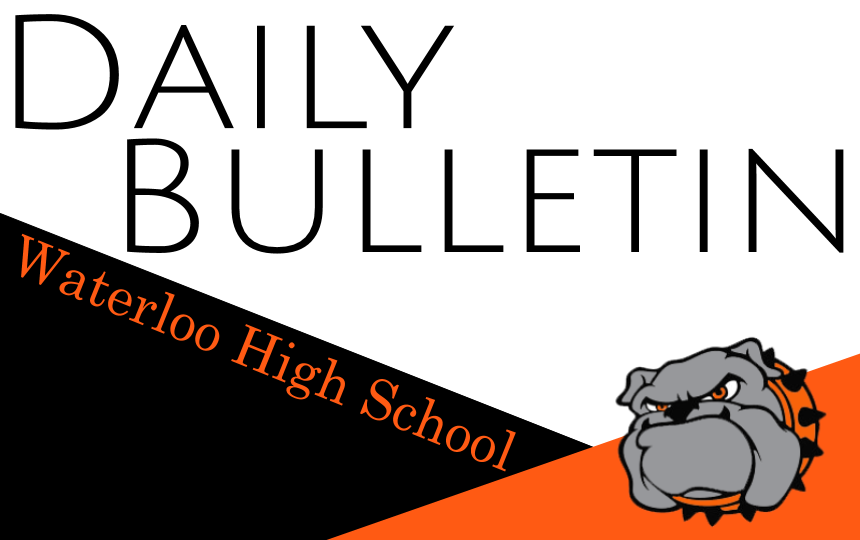 Daily Bulletin 1/30/2020
WHS
Thursday, January 30, 2020
WATERLOO HIGH SCHOOL

Daily Bulletin
January 30, 2020
General Announcements
Waterloo High School graduation date has been set for Sunday, May 17, at 3:00 pm
Attention all Saturday Scholars! Don't forget to sign up on the door of room D209 of whether you can or cannot come to this Saturday's event. The sooner you can sign up the better for there here is a long waiting list!
Students who ordered the German Club T-shirts can pick them up before or after school in Room E202 and bring the money if they have not paid yet
Seniors, write your name and size on the Senior shirt order form please and turn the forms in to Señora Jones, Señora Koeneman, or Sydney Stephens.
The NHS blood drive is scheduled for Thursday, February 6th. Anyone 16 or older is eligible to donate. See Mr. Brueggeman in B210 if you'd like to sign up.
Students traveling to Spain in 2021, get your TJ's pizza order form from Sra. Koeneman room E204.
The following students have books to be picked up in the library: Dakota Bass, Paige Baxmeyer, Stanley Harmon and Hunter Howard
Guidance
Spring College Visits
SIUC Feb. 5th
SEMO Feb. 11th @ 1:00
Murray State Feb. 20th
Sign up on the Guidance website if you would like to meet with a representative
Athletics
Friday, February 14, will be FOR THE LOVE OF BLUE night when our boys travel to Highland for JV and Varsity Basketball. Proceeds from this event will be donated to Officer Hopkins family. Please come be a part of this awesome event. Cheer on the boys basketball team and our cheerleaders who will also be doing a special performance with the Highland squad. There will be fun crowd contests and games during halftime. There is a signup sheet in the cafeteria during 5th hour lunch for a fan bus to the game. You can also see Mrs. Dehler in E101 to sign up or for more info. Waterloo fans will be wearing black with blue and Highland will be wearing Blue with black.
Athletic Events
6:00pm Fr Boys Basketball @ Civic Memorial
6:00pm JV/V G Basketball vs Gibault
6:00pm Wrestling @ Granite City
Cafeteria
| | |
| --- | --- |
| Lines 1 2 5 & 6 | Chicken Dinner Bowl Corn Dog Hoagie |
| Lines 3 & 4 | Taco Chip Bar Refried Beans |
| Friday's Breakfast | Waffles |