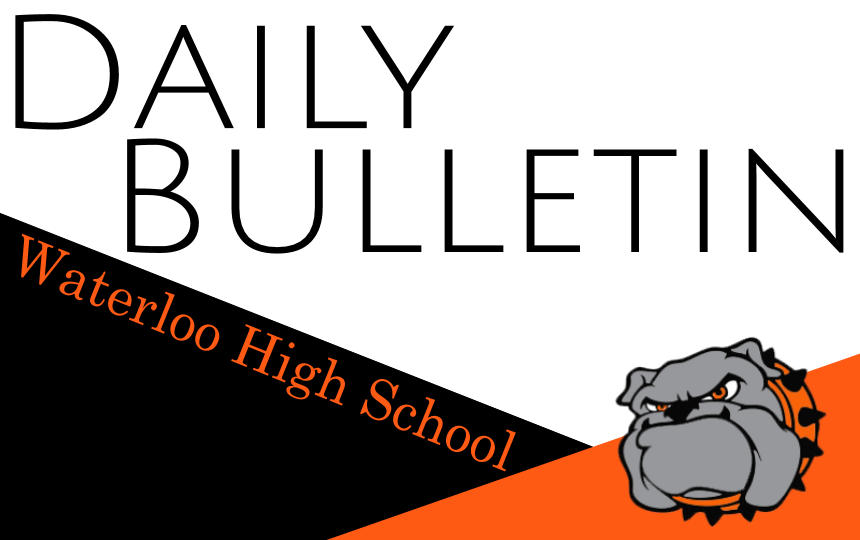 Daily Bulletin 1/12/2021
WHS
Tuesday, January 12, 2021
WATERLOO HIGH SCHOOL

Daily Bulletin
January 12, 2021
General Announcements
Students: As a reminder, all assignments for 1st semester are due no later than Friday, January 15th at 7:45 a.m
2nd semester begins on Tuesday, January 19th
Students, please take note of the changes for 2nd semester. These changes go into effect on Tuesday, January 19th.
The attendance component must be completed by Noon everyday.
ALL English classes will be taught by utilizing live instruction. This means that every student will be required to Zoom into their English class, Monday-Thursday. If you are unable to Zoom into English class on a particular day, a valid excuse must be provided to our attendance secretary, Ms. Hogan. Please see the student handbook on the school website for what qualifies as an excused absence.
Congratulations to our December Student Characters of the Month. The following students displayed COURAGE throughout the month of December and were recognized by a WHS faculty member:
Isabel Gregson, Charles Walster, Madeline Shormas, Megan Vogt, Kendahl May, Chase Castello, Max Mitchell, Emily Michels, Carrie Wagenknecht, Lily Modglin, Damian Becker, Emma Bertrand, Amanda Hammonds, Stone Whetzel, Russell Martin, Lilli Hunter, Ian Huebner, Evan Brown, Olivia Colson, Brandon Lloyd, Caitlyn Bradley, Jon Mosbacher, Joe Schwartz, Emma Schutzenhofer, Skylar Langley, Keaton Grohmann, Christopher Plank, Race Kipping, Katelyn Davis, Breeyn Garrett, Reese Downing, Molly Grohmann
January's Student of Character has a POSITIVE ATTITUDE! Are you who we will be recognizing? We are POSITIVE you are! Keep spreading that positive attitude WHS!
Picture Retake Day is January 27th for students with last names A-K and January 28th for students with last names L-Z. Remote students can report to the secondary gym either day from 7:30 - 8:30 a.m.
Guidance
Please check Skyward to view your 2nd semester schedule as soon as possible. If you have any questions or concerns regarding your schedule, please speak to your guidance counselor this week.