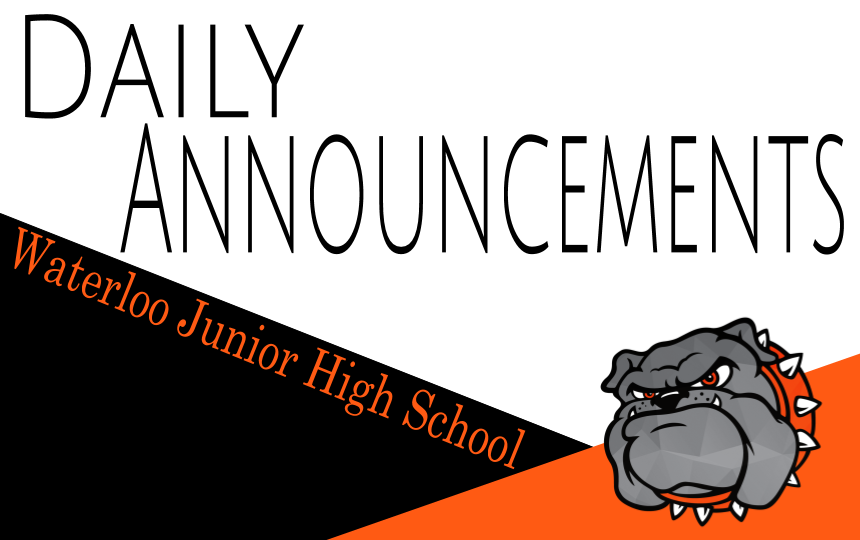 3-10-2020 Announcements
WJHS
Tuesday, March 10, 2020
Menu: Chix Fajita or Hot Ham & Cheese on Pretzel Bun Broccoli and Apple
************************************************************************************
Jr. High Girl's bowling team competed at the 2020 SIJHSBC Girls Singles Tournament at St Clair Bowling in Fairview Heights. Conference awards were presented and the Girl's Junior Varsity team was awarded 2nd place in the "C" division. For the singles competition, in the junior varsity division, Mia Petruso came in 1st place and recognized as the division champion with a handicap total score of 446 pins for two games. Hannah Allen also medaled finishing 12th place in the junior varsity division with a 404 pin total.
Track students need to leave with the town bell and report to the South gym.
Stories and Slices will be meeting in the library during study hall this Thursday, March 12. If you have read the book, "Fred Korematsu Speaks Up," you are invited to come eat pizza with us and talk with the authors. You do not have to have come to a previous meeting to attend! The sign-up sheet is in the library and we can't wait to see you!"
Students should only be in the cafeteria in the morning if they are eating breakfast. If you are not eating, please sit in the gym in your designated location.
There will be a meeting during 9th hour today in the library for all Student Council members attending the Convention. Please see Mr. Mayer and Mrs. Meyers with any questions.
Trivia Night will be Friday, March 20 (6:30-9:00). Teams can start registering March 13-17.